Retiring Project Jarvis & launching Spark Theory...
For over the past year, I have spent a large amount of time, energy, and money on following this idea I had, and to say it was a roller coaster would be an understatement.  It all started with a fun concept to explore, and grew into something much bigger, and better than I could have ever expected. It was all surreal and unbelievable to me. I did a series of public talks, which I really enjoyed...
1 tag
After reading about Jarvis close to a year ago, I...
cannot comment on future products or services. Sorry Ask me anything
1 tag
In response to the Active RFID question someone...
ehh, bluetooth is unreliable. Meaning I could be out of bluetooth range of my mac and now "bluetooth detector" has false information. Where as wifi is completely covered in my apartment. I may reapproach using bluetooth again. Ask me anything
1 tag
Now that you are unemployed are you looking for...
Love to, but Jarvian doesn't produce revenue yet. :( Gotta pay the bills somehow. Ask me anything
1 tag
have you ever thought of using active RFID by your...
Yes, haven't done it for money reasons. Active RFID tags are much more expensive and require batteries. It also feels like "one more thing" i have in my pocket. you know? Ask me anything
1 tag
how do you intergrate your facebook notifications...
You can do facebook via their API. Check out their docs for info on how to do that. Ask me anything
1 tag
Are you a gamer? And if so what games do you play...
Used to be a gamer. Halo and Metal of Honor were my favs. I found that I was spending too much time gaming and wasn't be constructive with my life. So I sold my xbox 360 and soon started to build Jarvis Ask me anything
1 tag
How'd you remove the need to say the word...
I havent removed "execute" yet, but simply adding an event listener for "on done editing" you wouldn't need the word on the end to finish the command. The mic is muted while not in use. The mic is also designed to filter out background noises. Ask me anything
1 tag
how do you teach jarvis ?and also how its...
Not sure I can really answer the first question. Yes, I communicate to Jarvis via twitter all the time. Ask me anything
1 tag
Any future video updates/upgrades of your Jarvis...
My main focus these days is working on this product for other people, than working on Jarvis for myself. When I feel I have something new I want to share, I will. Ask me anything
1 tag
That ping trick for the iPhone is a cool idea, can...
Sure, its pretty simple set temp to ((do shell script "defaults read /Library/Preferences/Jarvis homeChad") as number) as boolean if temp is false then try do shell script ("ping -c2 X.X.X.X") [ enter code here to sign yourself in ] end try end if Ask me anything
1 tag
What would you do with a million dollars?
Invest into Jarvian mostly. In my opinion, i'm not put here on the planet to get rich and buy things for myself, but rather contribute to the planet is the most meaningful way I can. Money would help me to do so. Ask me anything
1 tag
Are you going to do any interviews on tv or the...
I have done a few interviews on the internet, would be open to exploring doing more if called upon. :) Ask me anything
1 tag
I had the same idea with pinging the wifi IP on...
I don't. That issue causes a delay to Jarvis's detection of my presence, which is why I didn't use my iphone originally. I used RFID tags. More reliable, you just have to remember to scan in and out. The new iPhone detection thing is secondary, a backup. Ask me anything
1 tag
could you provide or look into giving help and...
Not sure what I can do to help windows users. I can answer your questions, but I certainly can't start coding for individual people. Ask me anything
1 tag
Do you have any idea what the price point would be...
sorry, can't comment on future products and services. Ask me anything
1 tag
do you still use the rfid door login? will you...
I still use the RFID door scanner, I will prob post the code for it at some point. The reason why I am using a USB cable instead of xbee is cheaper, simpler, don't want to use any kind of battery, and the mac mini is close enough to the door for a USB cable. I am using a basic arduino. Ask me anything
1 tag
How do you get JARVIS to detect if your iPhone is...
i give my iPhone and my girlfriend's iPhone a static IP address, and have Jarvis ping the IP every few mintues. Ask me anything
1 tag
are you still using heyu to control the x10...
Yes. It works well, but there def are bugs. http://www.heyu.org/ Ask me anything
1 tag
What specs is Jarvis running on right now?
Hes running on a Mac Mini 1.83 GHz Core Duo with 1 GB 667 MHz DDR2 SDRAM Ask me anything
1 tag
So the technology you want to create with your...
Jarvis is the long term goal of the company. Needless to say, its quite a gargantuan goal for any company to tackle in the commercial space. Especially, being a new startup that originally started with nothing (no capital, no team, no product, etc). So its been a difficult and challenging venture to say the least. But a small team has been put together and we are working hard on our first product...
1 tag
Seeing as it has been decided not to be released...
When it comes to Jarvian as a company, I cannot comment on future products/software. Public announcements will be made when the timing is right, which hopefully shouldn't be much longer. Ask me anything
1 tag
Is project Jarvis being released as open source?...
No. It was decided a while ago that Project Jarvis wouldn't work well as an open source project, mainly because its written in a little utilized language creating barrier for others to contribute and only available on Mac platform. Instead, I've started a startup company trying to build this technology to the masses from tech savvy to non-tech savvy people. I wanted to reach a wider...
1 tag
formspring.me
Ask me anything http://formspring.me/cbarraford
Vote for Jarvian!! →
Please help, and take 2 seconds to vote for Jarvian. Your vote counts!!!  http://bit.ly/13NS0h
Auto Sign out/in
Out of pure frustration that my girlfriend and I keep on forgetting to sign out or in of the apartment I added a couple new features today. Jarvis now automatically signs me out when he when I am outside the zip code I live in. And he automatically signs me in if he detects my iPhone on the wifi network (same for my girlfriend's iPhone).  Because of how flexible his infrastructure is, it...
6 Insane Do It Yourself Projects That Put Yours to... →
number 1 is #ProjectJarvis. INSANE! http://bit.ly/gE5JDL
Introducing Jarvian, Inc
Hey Everyone, So I am really excited to announce that I have formed a new company called Jarvian, Inc. This company will be the entity that our Project Jarvis related products will be available to under. In addition we have also launched the website, www.jarvian.com, and the official twitter account, @JarvianInc. Be sure to subscribe to the Jarvian blog and twitter feed as we will be letting you...
New Hire: Matt Caldwell
I am very pleased to announce the hiring of another person to the Jarvis Team. His name is Matt Caldwell and he will be helping with the software development. I feel lucky to have talented people like Matt and David Johnston on the team. They both have already proven to be very talented developers and are working on something I think you all going to like, wink, wink. :) Below is Matt's...
Wanted: Web Developer
Jarvis development is moving pretty fast now and the place where we need the most help is a really strong web developer. If you know anyone or are interested yourself please email me (chad at projectjarvis dot com) with subject line "web developer!". Resume is not needed really, just tell me about yourself, your history and experience. If you have any examples of your work available...
A new member to the Jarvis Team!
I am very pleased to announce that a new person has officially joined the Jarvis team!! His name is David Johnson and he has been hired as the senior developer for our initial product release (shhhh can't tell what that is quite yet). David is a programming fiend and has already jumped into project with two feet and we are now on the fast track to our initial product offering! Can't...
Facebook Fan Page hit 1,000 friends
Jarvis hit a milestone. The facebook fan page hit over 1,000 friends. Thanks to everyone for supporting the project. You guys rock!!! Now lets go for 2,000. :) http://www.facebook.com/pages/Project-Jarvis/370440470548?ref=ts
MassChallenge was a great experience
Hey Everyone, I just wanted to post that MassChallenge is over for Project Jarvis. I was eliminated, but the top 26 finalists keep going. It was a fantastic experience as I've learned so much and met so many people. I want to wish the top 26 good luck, and the other competitors good luck!! Stay tuned, I should be uploading a new Jarvis video with a new feature soon! -Chad Barraford
Project Jarvis in MassChallenge
Hey all, I wanted to post about whats going on with Project Jarvis. I entered an entrepreneurial competition to help make Jarvis into a company. So far, its going extremely well as I have recently been announced that I am a finalist in the competition!!! That puts me into an "Accelerator Stage" which means over the next three months i will be working in my new office space in Boston...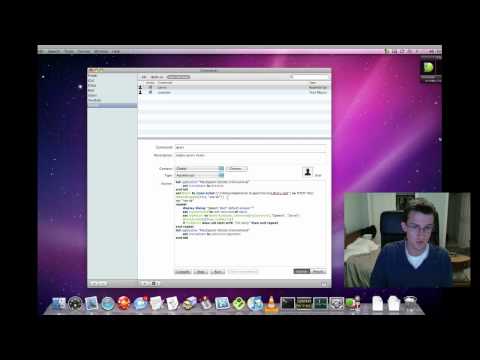 New Jarvis Project, whose in?
I will be starting a new project similar to Project Jarvis in function, but very different in how he's built. But this time I want your help!! This project will be to develop Jarvis for people of all sorts to use, both tech savvy and not. You will be able to use it across all platforms, both mobile (iphone & android) and desktop (windows, mac, linux)!! I need some committed, good web...
Library Functions (source code)
As promised, here is some source code to Project Jarvis. This document contains a bunch of functions that are very useful and can be called from any script on the computer. Here is an example on how to load the library into another script and run one of the functions set library to (load script (("/Library/Application Support/Jarvis/Library.scpt") as POSIX file)) set myZipcode to...
Live Announcements & Q&A
Hey Everyone, So a lot has been going on behind the scenes of Project Jarvis. I have a couple announcements to make, so I figured I'd do another live video session, make my announcements, then do some Q&A afterwards.  The live session will be this Thursday (June 10th) at 8:00 EST. I will post the url to the broadcast on my twitter account (@CBarraford) at 7:00 EST that day. You will be...
Popular Mechanics Article published →
Live Video Q&A Recording →
If you missed the live video Q&A, you're in luck, here is the recorded video
Live Video Q&A
Hey Everyone, In light of what today (May 12th) is lacking, I don't want to leave you guys empty handed. So I will be doing a live video broadcast answering your questions.  It will take place at 8:00pm EST sharp. I will send out the URL to the event at 7:00pm on my twitter account (@CBarraford). If you don't use twitter, goto http://twitter.com/cbarraford tomorrow and you will see...
Open source delayed...
Hey Everyone, i have decided to delay the release of the source code for Project Jarvis. There is currently no new release date, as I feel it is more important for it to be done correctly than for it to be finished within a certain amount of time. I appreciate your understanding and patience. -Chad Barraford
Public Talk on Project Jarvis
I've been invited to speak at Bristol Community College in Fall River Massachusetts to talk about Project Jarvis. Its an honor for me to do so and I'm very excited about it. I am told that it will probably be recorded, and if I can get my hands on a copy, I'll be sure to post it online for anyone who wants to watch it. It is open to the public also, so if you live near Fall River...
Project Jarvis going Open Source
Hey Everyone, After exploring different options in terms to where to take Jarvis, I have decided to go open source per the request of the community. I am pretty new to the open source scene, so there is a lot I need to learn before I can do it, such as licensing, distribution, how people can contribute, etc. If anyone out there would like to help me to understand how open source works, shoot me...
Therealmacgenius.com Interview →
MacTech Live Podcast Interview →
BigAppleBlog.com Interview →
A short while ago I was interviewed by a puppet named Leonard about Project Jarvis. If you're interested in the video, here you go. Two more interviews coming soon.